The Kiev was actually a version of the famous German Contax rangefinder camera, made in the Soviet Union, in the military Arsenal Factory in Kiev, Ukraine. The first Kievs were made in 1947 from parts and with machinery pilfered by the victorious Red Army from the Contax Zeiss factory in Dresden, Germany, and some were just made in Dresden and branded as Kievs. (Some have the Contax nameplate re-stamped as Kiev.)
The industrial-scale production started in 1950, and lasted until 1986, with the camera virtually unchanged.
The model shown here is referred to as 4AM (the designation is not shown anywhere, you just have to know such things). It was made quite recently, in 1984. Still, only some cosmetic details make it different from the 1947 Kievs.
Minor variations of Model 4, including this one, were made from 1957 to 1987. The one shown is perhaps the last version. From the Sixties most models were made in two parallel variants: with and without a selenium light meter.
This particular camera, bought quite cheap during a trip to Poland, is shown here with the impressive Yupiter-3 (or Jupiter-3) lens, 50mm/1.5, not too shabby even by today's standards.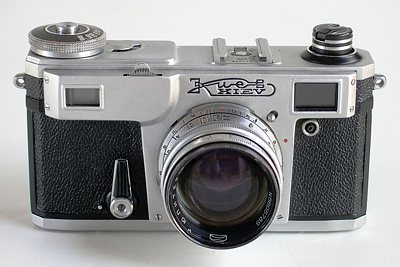 The Contax, introduced around 1933, was a major competitor to Leica. The Soviets were making imitations of both these camera lines, their FED and Zorki Leica clones being more pedestrian, the Kievs — more sophisticated (and much more expensive).
From my own experience: in the Sixties Kiev was selling in Poland for about 40% of the price of an Exakta, which made it as expensive as the Practica IV SLR, slightly more than a two month's pay. Among rangefinders, a Zorki would cost about 60% of Kiev's price, and was also considered more reliable.
You cannot talk about Kiev without mentioning Contax. Then you cannot talk about Contax without comparing it to Leica. This is because both cameras, while aiming at the same market, are so different.
While Leica (FED, Zorki) had a cloth shutter traveling horizontally, Contax (Kiev) had a metal one, with vertical movement. While Leicas were focused by turning a ring on the lens, in Contax the focusing mechanism was a part of the lens mount, and driven by a thumbwheel on the top of camera body. Leicas (the earlier ones, at least) were loaded from the bottom, Contax had a removable back. Contax was also significantly larger and had a rangefinder with a huge base, a boost for focusing accuracy. Leica lenses were screw-mounted, while Contax used a bayonet mount, really two (internal and external), one for short, and one for long lenses.
There are also differences in how these cameras age. Leica (and its clones), being mechanically simpler and perhaps better designed, age gracefully. Most of the used FEDs and Zorkis I encountered (I stay away from used Leicas) would work, maybe after some cleaning and lubrication. A large share of vintage Kievs (and, from what I hear, Contaxes) suffer from problems with the shutter, back locks, even lens mount. Buying a used Kiev is an exercise in caution.