We've been close buddies and classmates at the University of Łódź, Poland, for five years; then we got jobs in the same research group. Partying together, hiking together and doing physics together — until our ways separated: I ended up doing air traffic R&D in the U.S., while Jurek represented Poland at the U.N. Atomic Energy Agency in Vienna, Austria.
After retiring, Jurek looked me up on the Internet, and for the last year we've been talking on the phone at least twice a week, like if that 30-year break never happened.
Photography, computers, and technology in general were among many interests we shared. Last November he said he regrets we won't see the inventions and gadgets coming after us. In the meantime, he was enjoying his brand-new Sony superzoom.
He also became an expert in (of all things) miniature Nativity scenes from around the world, and his massive collection has been hosted by a number of museums in Poland.
We've been planning to meet in person late January, but this is never going to be.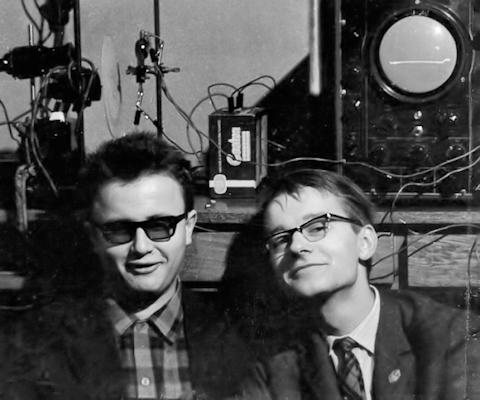 Jurek and me
as students at Physics Lab, U of Łódź, 1966