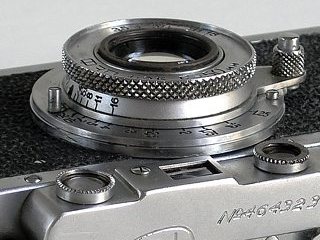 The camera was usually sold with the standard FED 50mm/3.5 lens, very similar to the Soviet Industar one. Generally it was not bad, although the quality could vary quite widely.
The lens collapses almost flush with the body, and the focusing lever would lock itself in the infinity position, requiring a press of a button to move it from there. There is a depth-of-field scale provided.
A number of other lenses for this camera has been made, ranging from 28 mm to 105 mm, but these are not easy to find.
Camera specs at a glance
Not much to elaborate upon: just what is needed to take a picture.
Shutter: focal-plane (cloth, horizontal); 1/25s to 1/500s and B.
Standard: coated FED (similar to Industar, or Leica's Elmar), 50 mm/3.5; focusing from 1 m.
Aperture: F/3.5 to F/16, strong fingernails required.
Film transport: winding knob at the right, rewind knob at the left.
Flash synchronization: none.
Viewing: a Newtonian viewfinder, and a coupled dual-image rangefinder with separate eyepiece.
Self-timer: none.
Film loading: detachable bottom secured by a single rotating knob.
Later FEDs and other Soviet Leica clones
In the late Forties, with the not-yet-rebuilt FED factory being unable to satisfy the demand (or rather, in Soviet terms, to meet the quota), some FEDs started to be assembled in the Krasnogorsk Optical Factory in Russia. After a year or so, those cameras got a separate brand name: Zorki, still being an exact clone of the FED.
In mid-Fifties both factories released newer, improved models, and the lines diverged, both from each other, and from the original Leica.
FED-2 (1955) had, notably, a wider-base rangefinder combined with a viewfinder, and a detachable back, which makes the camera usable even today. FED-3 added slower shutter speeds. The later models went the mass-market way and are not really interesting.
Web resources
Here are some resources I was able to find. Remember, however, that Web articles come and go, so I cannot guarantee that these are still alive when you are reading this.
Unfortunately, an enjoyable and informative, article by Stephen Rosenbach, Rangefinder Cameras of the Soviet Era, accompanied with serious photography done with those vintage cameras, seems no longer available at the original URL.