How serious? Here at left is a 1:1 sample from [4] (linking to the full frame, in case you have to see it).
Indeed, we see some serious noise here, more than in visible-light ISO 6400 images. This does not bother me; noise is a part of the infrared mood, and some programs imitating IR actually add it to images. If you want to avoid it, go down to ISO 1600 and use a good noise removal plugin, like my favorite, the Neat Image.
To see how effective denoising will be here (and at what price in terms of resolution it comes), I submitted [4] to the Neat Image plugin (Version 7) in Paint Shop Pro X9. A 1:1 sample from the resulting image is shown at right (linking to the full frame, again).
As (almost) always, Neat Image did a very nice clanup job here, and there is no substantial loss in contour sharpness, and just a little in texture detail (to verify this, compare full frames).
Still, I usually prefer the noisy version of my IR pictures. Your choice.
IR sensitivity
Now, the question we started from: how responsive to IR is this camera? The IR image above was exposed for 1/6 s at F/8, ISO 6400. A reference shot I took used 1/250 s at F/8, ISO 200. That's the factor of 40× in shutter speed, 32× in ISO, the total of 1280×, or 10 1/3 EV.
This is how much more exposure you need for a picture taken in IR (with an R72 filter) compared to a visible-light one, shot under the same (sunny) conditions.
No surprises here, this is very close to the 10 EV I got for Mark I. Which means that Mark II still has a strong anti-IR filter in front of the sensor; this improves color in visible light, but makes the camera marginally usable in IR.
Oh, well. Using a camera to do things for which it was clearly not intended makes it even more fun. Try it one day.
Just for the fun of it
Just for the fun of it, another picture from the same session. Note that the Woods effect (bright foliage) is quite limited: leaves are still small and, I guess, have less chlorophyll than mature ones. Two weeks more to wait.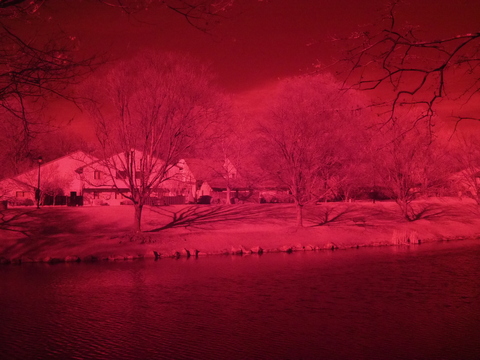 EM-1 Mk.II, 12-40/2.8 PRO lens at 25 mm, Hoya R72 filter
Aperture priority (0 EV): 1/8 s at F/8, ISO 6400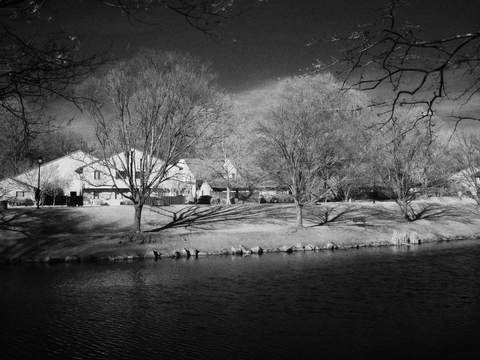 After desaturation, level stretch and curve adjustment in FastStone