Here is an illustrated walkthrough of the Ihagee Exakta line from Dresden. I am showing all major Exakta versions here, along with some minor variations. They are accompanied by brief comments, some technical, some personal. All cameras shown come from my collection.
Numeric model and version references are given using my own star notation, and also in the "new" Aguila & Rouah (A&R) one.
This is the original Exakta (referred to as "Kine Exakta" to distinguish it from larger-format models) in its last pre-war version (1938).

It was bought equipped with a gorgeous, almost mint, 1.9/55 Auto-Quinon (shown), of the 1957 vintage, much younger than the camera itself.

The camera body was very dirty: external cleaning took most of an evening. A few months later, an internal cleaning, lube, and adjustment by my Polish Exakta repairman brought it to a full working order; the shutter cloth is tight and long times — quite accurate; not bad for a piece which is 65 years old.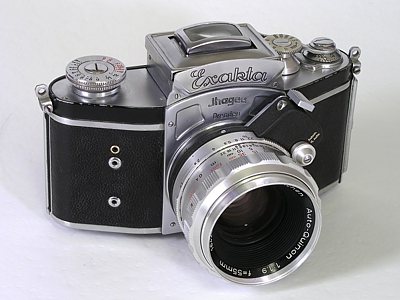 Exakta *1.2.2.k (A&R Pre-War v3.1) #531148, 1938-40
Lens: 1.9/55 Steinheil Auto-Quinon #1642899 (1957)
Finder: Fixed, waist-level
A more recent Kine Exakta, in its first post-war version (1946 or 1948), probably made from pre-war parts. Note the "c" spelling (more common).
The new-style flash socket has been added later, possibly a factory modification.
Bought at a photo flea market in Poland, the camera was in a good condition, except for a crude mirror replacement job. It was a steal anyway: less than $50, including the so-so Meritar 2.9/50 lens.
My friendly Polish repairman, Mr. Zenek, found a better mirror, adjusted the shutter speeds, and lubricated the mechanism — all to the tune of $12; try to match this in the US!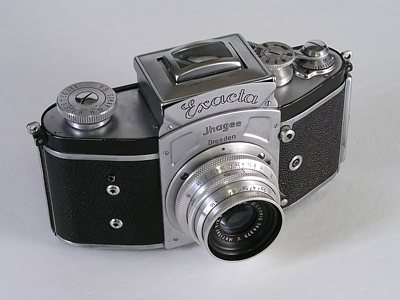 Exakta *1.2.3.c (A&R Post-War v1.2) #637626, 1945-49
Lens: manual 2.9/50 Ludwig Meritar #944375 (1951)
Finder: Fixed, waist-level
If you're traveling to Poland, don't miss the photo flea market in Warsaw, possibly the largest one in Europe. It opens every Sunday morning at the Stodola club building (have a taxi take you there). This is where I also found a beautiful Flektogon 2.8/35 lens, almost mint; some bargaining took the price from the marked $63 down to $45. Then, as I was about to leave, another seller talked me into buying a Russian FED (a look-alike of Leica 2), barely used, for the irresistible price of $25!
Kine Exakta II
Here is an Exakta II of 1949, the second version of the first post-war model. I bought it with a black, manual, 2.0/58 Carl Zeiss Biotar from the same year.

The camera fared well in more than 50 years of its life: everything seemed to work. I only had to remove the leatherette from the back, clean it, and re-fix. I also had Mr. Zenek give it internal cleaning, lubrication, and adjustment, as the camera was a bit sluggish at times. Some brassing on the front plate is just a sign of age and use.

It was bought during my 2003 Christmas trip to Poland: having just arrived from the U.S., I took a taxi from the airport to my old hometown of Lodz, asking the driver to stop by at the Warsaw photo flea market. Half an hour later and $50 poorer I had this baby in my harem.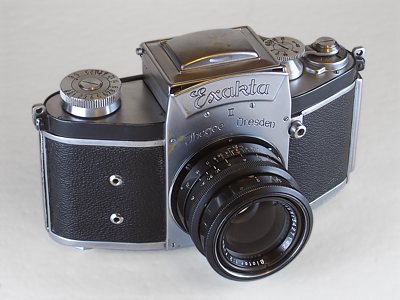 Exakta II *2.2 (A&R v2) #671607, 1949-50
Lens: manual 2.0/58 Zeiss Biotar #3427142 (1949)
Finder: Fixed, waist-level
A similar model, but wait, it has an early Ihagee pentaprism fitted! Wasn't Exakta II supposed to have a fixed, waist-level finder?

No, this is not the rare Version *2.3 (A&R v3). Taking off the front plate reveals a *2.2 modified to accommodate a prism; see details.

Too bad, I'll have to keep looking for the real Version *2.3.

Actually, post-war Exaktas were almost ready to accept interchangeable finders; this was not something entirely new in the Varex.

The camera was bought in Poland in decent condition, except for the dimpled back; I had to remove the leatherette, clean the metal, and put a new one. I also had the mirror replaced with one salvaged from another camera. A manual, 3.5/50 Carl Zeiss Tessar was included.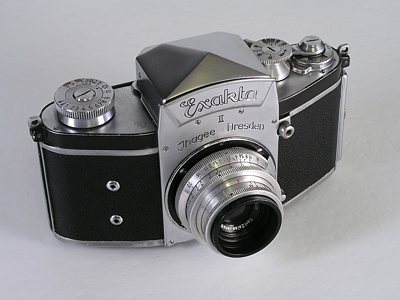 Exakta II *2.2 (A&R v2) #668119, 1950-51
Lens: manual 3.5/50 Zeiss Tessar #3226137 (1946)
Finder: prism P.1.1 (A&R v2.1) #73173, 1951
Exakta Varex
The Exakta Varex model of 1950 was sold in the U.S. as "Exakta V", as in the U.S. the rights to the Varex trademark belonged to the Argus Camera Company (did they ever use it?).

This was the first Exakta with interchangeable viewfinders. Although it was usually sold with a waist-level finder, you could buy a pentaprism, and most users did.

The camera, bought cheap on the eBay, badly needed some work. The back had oxidization dimples; I had to remove the leatherette and re-glue it after cleaning up the mess. The mirror silvering was gone (someone tried to clean it?), and the shutter didn't work. I took the camera on a trip to Poland, and the good Mr. Zenek replaced the mirror and brought the shutter up to speed; the camera is as good as new.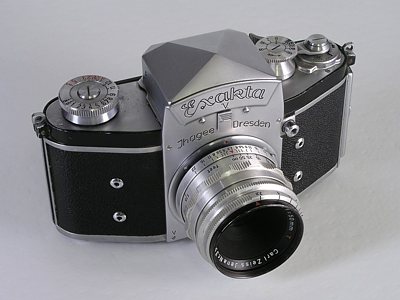 Exakta V *3.1.2.u (A&R v1.2) #685489, 1950-51
Lens: preset 50mm/2.8 Zeiss Tessar #3560485 (1952)
Finder: prism P.1.1 (A&R v2.1) #34208, 1950
Exakta Varex VX
The first Varex VX (branded in the U.S. just as "VX") was a relatively minor update to the previous model.

It was introduced in 1951 and stayed in production until 1956.

The only significant modification seen in the first VX version was a different (hinged) back, opened by pulling a knob at the camera bottom — a cumbersome solution I really dislike.

The camera is shown with a manual 4.5/35 Meyer Primagon lens, introduced in 1957, somewhat more recent vintage.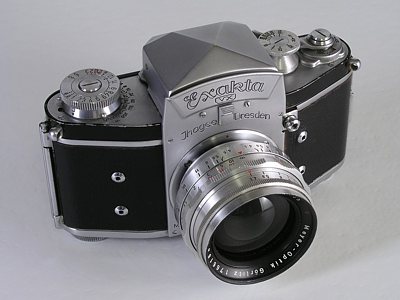 Exakta VX *4.1.u (A&R v1) #723474, 1951-53
Lens: manual 4.5/35 Meyer Primagon #1766184 (1955)
Finder: prism P.1.1 (A&R v2.1), 1950, no s/n
This is the next VX, in the U.S. version; note the thumbwheel at the right, used for film counter setting. (Not visible in the picture, there is also the second, external lens mount in the flange, used for larger lenses.)

When I bought this camera, the wind lever had a broken spring; luckily, my trusty repairman has shoe boxes with spare parts, so it took just another trip to Poland to have it fixed, cleaned, and adjusted.

The lens shown mounted on the camera is a preset 2.8/35 Flektogon lens, introduced in 1957. This actually was the first widely available, modern, wide-angle lens for 35-mm SLRs.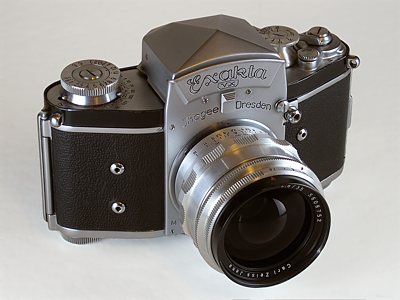 Exakta VX *4.2.u (A&R v2) #63583, 1953-55
Lens: preset 2.8/35 Zeiss Flektogon #5608752 (1953-60)
Finder: prism P.1.2 (A&R v2.2), no s/n, 1954-56
This is a late variation of the Exakta VX, manufactured from 1956.

This model had one small, but significant improvement: concentric flash sync sockets following the standard used in many cameras till today. You can use a last year's flash with this camera! This is why some collectors consider this model the first "modern" one. I tend to agree: the only really new feature added to the Exakta line after this VX was the instant-return mirror, introduced in 1966.

The lens shown here is a semi-automatic 2.8/50 Zeiss Tessar.

The prism is P.2.1 of 1953.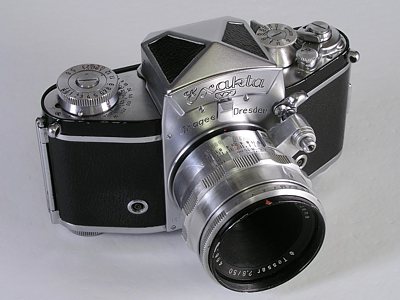 Exakta VX *4.3.u (A&R v4) #809044, 1955-56
Lens: semi-auto 2.8/50 Zeiss Tessar #4569219 (1954)
Finder: prism P.2.1 (A&R v3) #119375, 1956-58
Exakta Varex IIa
The Varex IIa (or VX IIa, depending on the market) was quite long-lived, being made from 1957 to 1963 and possibly marked the height of the Exakta's reign on the SLR market.

Actually, I bought it because of one of the lenses bundled with it, shown in the picture: the legendary 1.5/75 Zeiss Biotar. This is one of the best portrait lenses ever made, and I just had to have it.

The leatherette has been replaced by the previous owner, a well-esteemed camera repairman; internally, according to my man who was giving it a lube, the camera is like new.

The prism looks like P.2.2 ("Ihagee" in relief, no front markings), but it has "VX" on the bottom part (like P.2.1), and the serial number seems to belong to the P.2.1 range.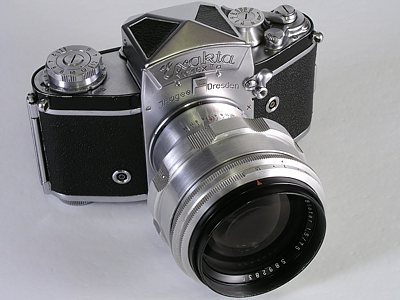 Exakta Varex IIa *5.1.1.e (A&R v1.1) #830697, 1956-57
Lens: 1.5/75 Zeiss Biotar #5892835 (1951)
Finder: prism P.2.2 (A&R v4) #97066, 1958-60
This is the same model and version as above, but destined for the American market, and therefore bearing the VX (not Varex) designation.

The camera is shown here with a beautiful, semi-automatic 2.8/35 Zeiss Flektogon.

This was the dirtiest camera I ever bought, but, surprisingly, in decent working order, including accurate long speeds (a rarity!) and good shutter curtains.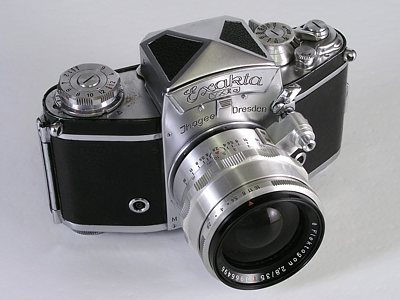 Exakta VX IIa *5.1.1.u (A&R v1.1) #828804, 1956-57
Lens: semi-auto 2.8/35 Zeiss Flektogon #3966496 (1964)
Finder: prism P.2.1 (A&R v3) #108919, 1956-58
This is a slightly changed version of the Varex IIa, introduced in 1958. Its distinctive feature is the Exakta logo in raised letters on the front plate. While this version is quite common, some collectors consider it to be the prettiest in the whole line.

This particular camera was taken good care of by its previous owner: no mechanical or cosmetic problems, almost like new. Even the film path shows no visible wear! Included was my favorite Exakta standard lens: the 2.0/58 Biotar.

The prism matches the camera, with the Ihagee logo also set in relief.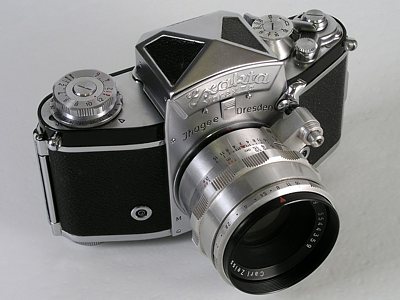 Exakta Varex IIa *5.1.3.e (A&R v2) #928823, 1958-60
Lens: 2.0/58 semi-auto Zeiss Biotar #5544359 (1955)
Finder: prism P.2.2 (A&R v4) #198473, 1958-60
The same model made for the U.S. market was labeled "VX IIa" (the only other change was the film speed reminder, top left, marked in ASA instead of DIN).

This particular camera was kindly donated to my collection by Mr. Dieter Ast. It came with an interesting and pretty, early version of 1.9/55 Auto-Quinon by Steinheil — compare it with another version of that lens, shown with the Kine Exakta above. The prism matches the camera, with the Ihagee logo also set in relief.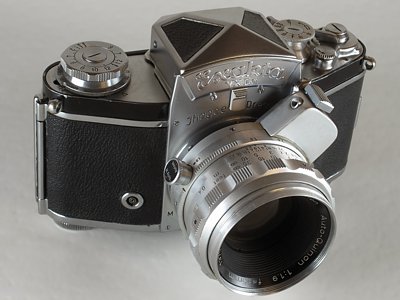 Exakta Varex IIa *5.1.3.u (A&R v2) #887700, 1958-60
Lens: 1.9/55 automatic Steinheil Auto-Quinon #1375948 (1955)
Finder: prism P.2.2 (A&R v4) #97066, 1958-60
The "1960" Exakta Varex IIa
While essentially the same model, this late (1962) Exakta Varex IIa replaced the traditional Exakta logo with something more "modern" at the time. The front plate is also changed, not necessarily for the better.

The pentaprism has also a new shape; this is P.3, manufactured from 1960 on.

The lens mounted on this camera is a beauty: the 4.0/25 auto-diaphragm Flektogon, the second-widest lens Zeiss ever made for the Exakta (there was a 20 mm Flektogon, too).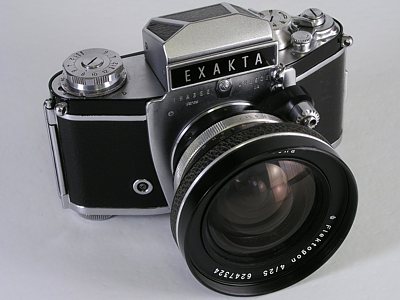 Exakta Varex IIa *5.2.e (A&R v3.3) #941768, 1960-63
Lens: 4.0/25 Zeiss Flektogon #6247324 (1966)
Finder: prism P.3.3 (A&R v5.3), no s/n, mid-1960's
Exakta Varex IIb
The Varex IIb was made from 1963 to 1965; my specimen is one of the last in the series. Mechanically it is just beautiful, maybe the high point in the whole series, although as far as the looks go, I prefer the older IIa's.

The IIb is very common (and therefore not too collectible), but it can be recommended if you want to actually take pictures with it.

This body (near mint, maybe never used) was bought in the States without a lens. The automatic 2.0/50 Zeiss Pancolar shown here was the most common (and optically very good) Exakta standard lens of the Sixties.

The prism is slightly more recent than the camera itself (1967), but it matches the body nicely.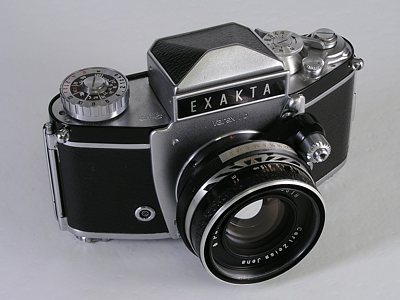 Exakta Varex IIb *6.0.e (A&R v1) #1122196, 1963-67
Lens: 2.0/50 Zeiss Pancolar #7176818 (1964)
Finder: prism P.4.0 (A&R v6), no s/n, 1967
Exakta VX 1000
With the VX 1000 of 1966, the line has been significantly modernized. This model, while generally similar to previous ones (and, most importantly, compatible with their accessories), has a new body construction, the biggest change since 1936.

The new film-winding mechanism has a shorter stroke and feels less precise than the old one.

The most visible improvement, however, was the addition of self-return mirror, introduced by Japanese makers a few years earlier.

The lens is a nice, automatic 1.9/50 Westrocolor by Isco-Goettingen, and the prism is P.4.0, the last Exakta prism made.

I had this Exakta shipped by a dealer from Slovakia, functional, freshly cleaned, adjusted, and lubricated.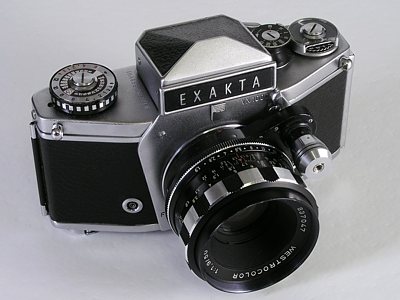 Exakta VX 1000 *7.0.x (A&R v1.1) #1131518, 1967-70
Lens: 1.9/50 Isco Westrocolor #837047 (1961)
Finder: prism P.4.0 (A&R v6), no s/n, 1967
This is the same body as the one above, only adding the "TL" ("through lens") marking. The marking was probably used on bodies slated for export to the West and bundled with the shown Travemat CdS metering prism. Reflecting the lost court battle for the use of Ihagee brand name, the top plate says just "aus Dresden".

The prism, made by Schacht of Ulm (West Germany), was not sold east of the Iron Curtain; while not hard to find in the States, it is rare, say, in Poland. It gives an Exakta a full TTL-metering capability.

The camera originally belonged to a late professor emeritus of a Jesuit university, and it was kindly sent for retirement in my collection. The interesting personal story behind it is described in a separate article on the Travemat finder.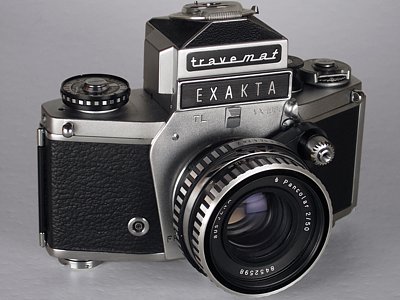 Exakta VX 1000 *7.0.t (A&R v1.2) #1205972, 1969-70
Lens: 2.0/50 Zeiss ("aus Jena") Pancolar #8452598 (1969)
Finder: Schacht Travemat metering prism (1967-70, #421757)
Exakta VX 500
The VX 500, introduced in 1969, was a cheaper alternative to the "flagship" VX 1000. It had no long shutter speeds, and the short ones went up to 1/500s only; nobody missed the film-cutting knife omitted in this model; otherwise both were similar, being sold concurrently.

The camera came with an automatic 2.8/50 Tessar, a lower-price alternative to the Pancolar. This version also feels cheaper than others.

The new waist-level finder (1966) takes the same interchangeable screens as those in prism finders, not the very thick, fixed ones used by all previous magnifying finders.

This Exakta was, again, bought from an eBay dealer in Slovakia, cleaned, lubricated and adjusted. The film path does not show any signs of use; probably the camera spent all those years sitting in a drawer.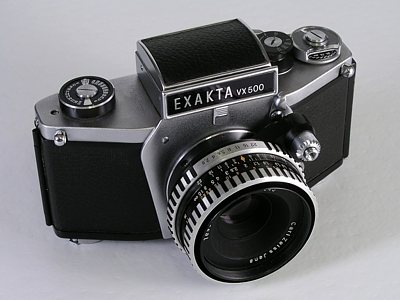 Exakta VX 500 *8.2.n (A&R v2.2) #1525279, 1969-72
Lens: auto 2.8/50 Zeiss Tessar #8986645 (1966)
Finder: waist level H.3.3 (A&R v6), no s/n, 1966
The VX 1000 and the downgraded VX 500 were the last "true" Exaktas, made by Ihagee and compatible with the vast line of Exakta accessories.
The later 35-mm cameras using the Exakta name were doing just that, slapping an Exakta nameplate on cameras having nothing to do with the real thing. They were made either by the East-German VEB Pentacon (Exakta RTL), or by the rightful owners of the Exakta trademark in West Germany (the rare, well made and quite collectible Exakta Real), or, on their behalf, by various Japanese manufacturers (Cosina, Petri). All these attempts were short-lived and unsuccessful.
See also my page on the Start SLR, often referred to as the "Russian Exakta".